BECOME AN

OPEN WATER INSTRUCTOR!
This is one of the most rewarding levels of Scuba Diving Training you can achieve. At the end of this course, and after a successful Instructor Examination, you will be ready to certify new divers. As well as Advanced, Rescue, EFR and even Dive Masters and of course specialty divers in your own specialist instructor areas.
This course is an extension of what you learned in the Assistant Instructor Course or leadership training from another recognized training agency.
You will earn an Instructor rating through hard work and commitment, but you're rewarded with a job that lets you share incredible underwater adventures with others – transforming their lives for the better and enriching yours.
Are you ready to join the ranks of the dedicated professionals who teach the world's most progressive and popular scuba diver education programs? Then Go Professional with an Instructor Development Course.
WHAT IS THE

INSTRUCTOR COURSE?
The Open Water Scuba Instructor program is an intensive course where you will continue developing your abilities as a professional scuba diving professional, improve your knowledge of diver education.
Learning the system of diver education is not only rewarding within Dive Instruction itself, but can be applied to almost any presentation that may come your way.
The combined experience of our team of Instructor Development Course Staff Instructors and Instructor Trainers will help ensure you are receiving the most up to date and state-of-the-art training.
Over a period of 7 days, the Open Water Instructor course teaches you to conduct all core courses.
You will have you presenting theory modules to your peers in the classroom – where you will be scored and evaluated by your Course Director.
You'll be able to organize and present information, conduct skill development sessions and control open water dives.
Key topics include:
Standards and Procedures for courses you can teach with in water workshops
Learning, Instruction and the PADI System
Risk Management and Diver Safety
The Business of Diving and your role as an instructor
Marketing Diving and Sales Counseling
And much more!
You will be given guidance in to how best to teach, how to incorporate related topics at the same time as sharing your experiences with students to give them real time "values" of a skill or subject.
You will be shown how to supervise, position and execute skills for the benefit of students in training, as well as how to evaluate a skill to be able to move on to the next.
During the course you will also be expanding your knowledge of dive physics and physiology in addition to being certified in basic first aid and CPR/AED.
WHAT ARE THE

REQUIREMENTS?
Be a Divemaster or Assistant Instructor in good standing with a recognized diver training organization for at least six months.
​
You will also need to be 18 years of age, show proof of 100 logged dives to start as well as provide documentation of certification for entry-level, advanced, rescue and leadership level from a recreational training organization. Hold a current First Aide Primary and Secondary care certification with CPR/AED.
​
Dive Professionals who hold an Instructor rating from another organization may be eligible for an academic crossover.
To successfully complete Open Water Scuba Instructor program, you must meet the following performance requirements. These will include:
Complete the following independent learning sections online through eLearning.

Participate in all IDC/IE curriculum components.

Skills Demonstration Workshop

Confined Water Teaching Presentations

Open Water Presentations

Discover Scuba Diving Workshop

Provide presentations in knowledge development teaching, confined water teaching presentations and integrated (two skills) open water teaching presentations

Perform all dive skills in the Skill Evaluation

Perform a facedown, nonstop swim for 800 yards using a mask, snorkel and fins.

Complete 400 yard non-stop freestyle swim.

Tired diver tow

Non-breathing, unresponsive diver rescue.
WHY CHOOSE

THE DIVE PLACE

FOR MY IDC?
At The Dive Place we take diver education very seriously ensuring our Student Divers and Professional Candidates are receiving a complete education in a safe relaxed atmosphere.
​
Benefits we offer are:
​
Flexible schedule -We can arrange your IDC based around your schedule. It can be scheduled at the Condensed IDC 8-day program, a weekends only program to what days are available to you.
​
Our Multi-Media based classroom offers a relaxed intuitive atmosphere.
​
For our IDC Candidates we offer the following items complimentary - Parking, WiFi, Drinks, Air/Nitrox Fills and Lunch. Truly making your IDC a more relaxed hassle free experience so you can focus on your education.
​
This is what makes The Dive Place difference!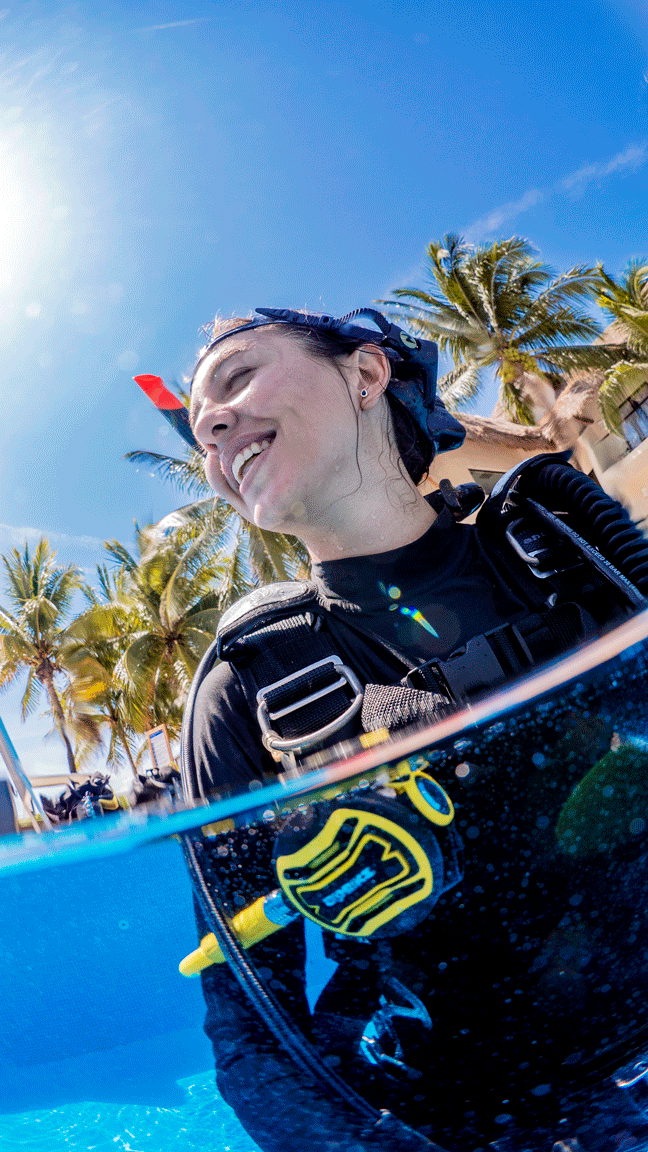 To begin your journey with this any other professional course stop by our Winter Garden store and chat with one of our The Dive Place Crew Members about your goals and expectations for a Professional Scuba Diving rating.
​
We encourage all of our students to chat with us, get to know us and help you in your decision to take your Scuba Diving into the next level by going professional.
Come and see what The Dive Place Difference is really all about!